---
Sale
Sebury Waterproof 125KHz RFID Proximity ID Card Reader Access Controller 
 + 10 Key Fobs Brand NEW
The W3-C is single door multifunction standalone access controller or a Wiegand output keypad or card reader. It is suitable for mounting either indoor or outdoor in harsh environments. It is housed in s strong, sturdy and vandal proof zinc alloy electroplated case.
These features make W1 an ideal choice for door access not only for small shops and domestic households but also for commercial and industrial applications such as factories, warehouses, laboratories, banks and prisons.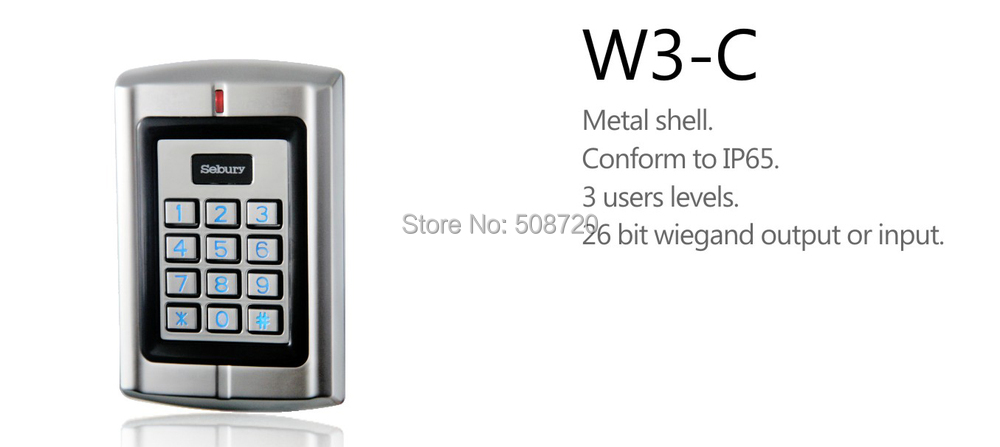 Metal shell, anti-vandal, more secure, waterproof design.
Backlight keypad.
Convenient for operating on night.
Large Capacity: 2,000 users.
Support 3 Modes Access: Card, PIN, Card+PIN.
Card Type: 125KHz EM, PIN length: 4~8 digits.
Operating Voltage: 12~18V AC/12~24V DC.
Very low power consumption ( ≤35mA), long service life and stable performance.
High Speed Search: filled with 2,000 users, the search time < 0.1 seconds. 
Manage cards: the manage cards can add/delete the users directly, very convenient
Wiegand 26 input & output, can work as Wiegand reader/Controller. 
Protective properties: IP65 fully-potted. with anti-demolition, alarm function, anti-static-interference 12KV. 
Operating Temperature: -40°c~60°c.
Certificate: CE
Operating Voltage: 12~18V AC/12~24V DC

Adjustable Door Relay Time: 0~99s

Static Current: ≤35mA

Wiegand Interface: Wiegand 26

Card Read Rang: 3~6cm 

Reader Induction Time: ≤0.1s 

Operating Temperature: -40°c~60°c

Operating Humidity: 0%~95%

Lock Output Load: ≤1A

Alarm Output Load: ≤3A

Antistatic: 12KV

Environment: Conforms to IP65

Wiring Length: 90~100CM

Signal Light: red, green, yellow LED light display

Dimensions: L 128mm×W 82mm×H 28m