---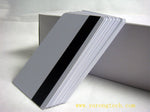 Sale price $5.89
Regular price
$6.89
Sale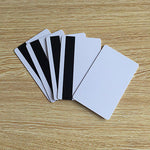 Sale price $6.74
Regular price
$7.89
Sale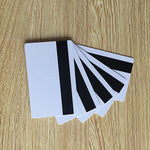 Sale price $21.11
Regular price
$24.69
Sale
---
If you are currently still using regular cards, then it's highly likely that you're contemplating an upgrade to the magnetic stripe card. If you are, it's probably the best time for you to learn more about the magnetic stripe cards including the benefits to be relished from being a magnetic stripe card holder and how these cards can improve your life.
In this quick guide, we are going to explore all that and more. Continue reading on!
Benefits of Magnetic Stripe Cards
One of the perks of investing in a magnetic stripe is that you can readily find it just about anywhere. So, whether its IDs or membership cards, you can find them easily on the market. And to make things better, it's quite easy to facilitate the usage of a magnetic stripe too.
Magnetic strip technology is highly reliable. Therefore, you can count on it to accomplish exactly what it is set out to do.
Thanks to the versatility of magnetic technology, modifying, altering and re-writing information is quite easy. Especially if you're dealing with a credit card magnetic strip, debit card magnetic strip or other materials that require continuous data change from time to time.
Magnetic strips are tremendously durable when it comes down to longevity and standing the test of time. They are much more robust than other materials and immune to outside effects such as dirt, water, and moisture contamination.
Most of the data contained in a debit card magnetic strip, credit card magnetic strip and any other magnetic strip for that matter is quite sensitive. Fortunately, since the data that is not stored in readable form but in a tiny row of magnets, magnetic stripes offer added security to the user.  What's more, the credit card magnetic strip format is also quite secure.
Magnetic strips offer both ease and speed of use making them superb for both transit and point of sale applications.
How Magnetic Stripes Can Improve Your Life
They contain rewritable data that can be updated when required
They are low cost
They have a high capacity
They are quite secure
They have well-established standards that result in high compatibility
Wrap up
Some elements of our lives are so deeply ingrained in us that it's hard to imagine life without them or life before their existence. And for many people born around the 1970s, the magnetic stripe is definitely one of those items. If you've been looking for a suitable replacement for your old and worn out card, we've got plenty of nifty options to choose from.