---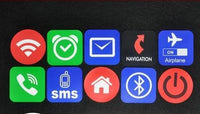 Sale
Description:
Comes with different smart tags so you can place them wherever you choose: at home, in the car, or in the office.
Tags are blank with no data, you can program them to launch your satellite navigator in your car; make phone calls, open a website; turn on Wi-Fi or Bluetooth when you get home and also program it to turn on your alarm and put your phone on mute when you go to bed, etc.
Various routine tasks can be stored, which are carried out by holding your device in front of the tag.
Can be re-written up to 100,000 times.
Suitable for Samsung Galaxy S5/S4/Note 3/Note 2/NOKIA Lumia920/820/720/620/BLACKBERRY Z10/Q10/LG Nexus4/Nexus5/HTC one/Sony Xperia, and all NFC enabled mobile phones.
Package Included:
1 x 10pcs Saled Smart NFC Tags Stickers
Note:
Please pre-install the "NFC Tasks" and "NFC Tools" on your cell phone before use. You can download them from Google Play
NFC Chip Specifications:
NFC Chip Type: NTAG216

Full compliance to the NFC Forum Tag 2 Type technical specification

888 bytes of total memory, divided in 42 pages (4 bytes each)

Rewrite Endurance: 10,000 cycles

16-bit counter

Lockable: yes (can be made read only)

Operating Frequency: 13.56 MHz

Operating Range < 2cm (depends on device)

Compatible with NFC enabled smartphones

Works with the new Nexus 4 phone and Nexus 10 Tablet
Security & Anti-collision:
Anti-collision function according to ISO/IEC 14443 allows to operate more than one sticker in the field simultaneously

Anti-cloning support by unique 7-byte serial number for each device

32-bit user definable One-Time Programmable (OTP) area

Field programmable read-only locking function per page for first 512 bits

Read-only locking per block for rest of memory
Introduction: 
         Achieved by simply setting as long as your mobile phone touch the NFC label,that can keep the mobile phone to be automatic action the tasks,For example:set up the alarm clock, send text messages, open the bluetooth, switch mode, open the web page, Open music,Close bluetooth,share business card... still have a lot of interesting things waitting for you!
NFC Software (you can download by Google play,you can put "NFC Writer"to search)
      NFC Task Launcher