---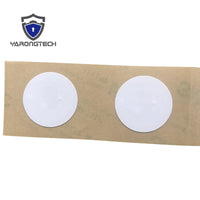 Sale
Package Contents:
1000pcs NFC BRAND NEW Stickers
compatible with all NFC functional phone/device.
Sticker Specifications:
Dimensions: 25mm diameter
Adhesive backing
NFC NTAG216 Chip Specifications:
NFC Chip Type: NTAG216
Full compliance to the NFC Forum Tag 2 Type technical specification
888 bytes of user R/W memory area, divided in 36 pages (4 bytes each)
Rewrite Endurance: 10,000 cycles
16-bit counter
Lockable: yes (can be made read only)
Erase times : > 100000 times
Operating Frequency: 13.56 MHz
Operating Range < 2cm (depends on device)
Reading and writing time: 1 to 2 ms
Working temperature: 20  to 55 degree , humidity of 90%
Warranty:100% test before send out
Compatible with ALL NFC enabled smartphones
Security & Anti-collision:
Anti-collision function according to ISO/IEC 14443 allows to operate more than one sticker in the field simultaneously
Anti-cloning support by unique 7-byte serial number for each device
32-bit user definable One-Time Programmable (OTP) area
Field programmable read-only locking function per page for first 512 bits
Read-only locking per block for rest of memory
Introduction:
Achieved by simply setting as long as your mobile phone touch the NFC label,that can keep the mobile phone to be automatic action the tasks,For example:set up the alarm clock, send text messages, open the bluetooth, switch mode, open the web page, Open music,Close bluetooth,share business card... still have a lot of interesting things waitting for you!!
Suitable:
1)Support IC reader/writer,For example:Acr122u reader/writer
2)Support Smart mobile phones with NFC function.
All Smart phone compatible: Sony,HTC,Samsung,Nokia,LG include blackberry, Nokia Lumia, Nexus4/10,  Galaxy S4, and other mobile phone could support NFC function.
Andriod system Phone could download the NFC software,such as the Google play NFC Task Launcher,Tagwriter,NFC Action, Pro Security Software.