---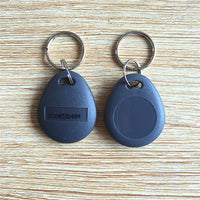 Sale
EM4100 ID Keyfobs:
It applies to access control, hotel locks, staff attendance and school campus access and payment control, identification and security systems, parking lot entry and payment, social security management, transportation payment, municipal and ancillary service payment.

Note:
1.The picture shows the two sides of the RFID Key-fob.
2.The listing is for 10PCs RFID Key-fobs 
3.The chipset is EM4100, which is compatible for TK4100 (but not EM410X). Make sure you are bidding the proper item. 
4.This chip is not rewritable,just read only,all this keyfob will have an unique id number,can't change.

Features:
1.BRAND:YARONGTECH
2.Weight: 4g/pc
3.Size:3.5 x 2.8 x 0.4cm
4.frequency: 125Khz 
5.Detecting distance: 3-10cm 
6.Compatible with all Door Entry system 
7.Temperature : -20° - +50° 
8.Each token pre-programmed with unique ID which is printed on it 
9.Each comes with Key ring included 
10.Compatible with all RFID reader to gain access 
11.No external power required. 
12.Brand new key inductive card for entrance guard system.
13.Easy to carry 
14.Water resistant
Package includes:
10PCS x  EM4100 RFID Key-fobs