---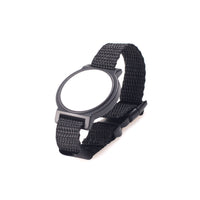 50 PCS Waterproof  ISO 14443A adjustable 13.56mhz rfid nylon wristband
Printing / Sizes / Logo are customizable for bulk orders!
Please feel free to contact with us!
Products introduction:
By 100% silicone one-time molding, is non-toxic, no crack, long service life, does not stimulate the skin, etc
Wristbands, adopts the closed loop type, color bright, feel is good, wear comfortable
Waterproof, moisture, shock, high temperature resistant
After encapsulation, electronic tags, can track Numbers
Specification:
Application:
Access control attendance, hotel locks, staff attendance, school campus access, membership management, payment control, identification and security systems, parking lot entry and payment, social security management, transportation, municipal and ancillary service.
Packing:
50 PCS Waterproof  ISO 14443A adjustable 13.56mhz rfid nylon wristband