---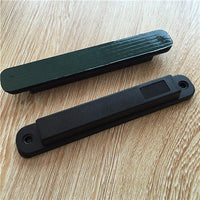 Sale
UHF Metal Tag RFID Metal Tag 916MHZ G2 anti-metal tag label
UHF metal tag with high temperature resistant plastic and UCODEHSL or G2XM chip assembly , belonging to UHF 860-920MHz band passive RFID tag products, but also according to customer requirements , encapsulated as LF or HF bands other types of electronic tags . NXP 's UCODE G2XM chip , fully compatible with UHF EPC G2 standard protocols , high data transfer rate: transmission speed : 40-160kbit / s, return speed :40-640kbit / s, with a 512bit user space , 96 ~ 224bit EPC space 64bit identifiers ( including 32bit serial number label ), 32bit access password , 32bit destruct password , operating frequency from 860 ~ 960MHz, operating distance away , in the standard tag antenna , reading distance of up to 1-5M ( ≥ 12dBi of gain antenna , reader RF power gain ≥ 33dB). The chip is a typical 96-224bit EPC Electronic Product Code format , widely used in item-level data management logistics and goods.
The main technical parameters:
Chip Type : UCODE G2XM ( can be customized Alien \ Impinj)
Communication protocol : UHF EPC G2 \ ISO18000-6B \ ISO18000-6C
Carrier frequency : 915MHz
Working temperature : -20 / +60 degree
Storage temperature : -30 / +80 degree
Reading distance :1-15M ( using 9dbi antennas and RF power 1.0W )
Packaging materials: high-temperature engineering plastic ABS
Package size : 135 × 22 × 13mm
This product can be packaged other chips :
NXP UCODE G2XL
NXP UCODEEPC G2
NXP UCODE HSL
Application Note :
This product is designed to be in ( including the expansion of the metal ) surface for installation in any medium , for example, can be applied in : plastic , wood , glass , metal, glass, cardboard , cans or boxes filled with liquids, such as a variety of application environments . It can be widely used in various fields automated data management. After installing the electronic tag items or goods that may become the world standard for EPC encoding format logistics information tracking digital product can be widely used in transport and logistics, commodity -level tagging , traffic management , patrol , security and many other occasions.
Package included:
10pcs UHF Metal Tag RFID Metal Tag 916MHZ G2 anti-metal tag label