---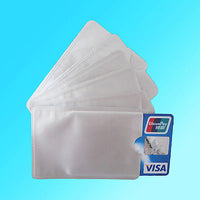 Sale
20pcs Anti Theft Credit Card Protector Aluminum RFID Blocking Secure Sleeve Protect your money and ID free shipping
Backgroud:
In credit cards and debit cards, RIFD chips hold all of your most sensitive information such as card numbers, expiration dates, names, addresses, birthdays, and more. Protect your personal information from thieves and unauthorized transactions with these RFID-Blocking Credit Card Sleeves. Enjoy peace of mind knowing your information is safe with this unique deal that fits most credit cards and identification.
Details:
1.Radio frequency identification (RFID) is a technology that uses communication via electromagnetic waves to echange data between a terminal and an electronic tag attached to an object for the purpose of identification and tracking
2.Prevents electronic pick-pocketing
3.Sleek silver design slides into your wallets card-holder with ease
4.Neutral and inconspicuous design
20pcs/lot        Aluminum Safety Sleeve / RFID Blocker, NOT Tyvek Paper
A very thoughtful gift to family and friends, also a great product for
 company promotions!
Color:             Silver
Material:         Aluminum Foil
Size:               9.2 * 6.3 cm (3.62 * 2.48 inches)