---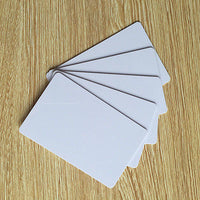 10PCS Inkjet Blank PVC ID Cards
For Epson & Canon Inkjet Printers
Includes 10 High Quality Inkjet Plastic PVC Cards 
  Inkjet Printable (both sides) 
30 Mil Thick, CR80,The same with Credit Card Size
Bright White, Semi-Gloss
Water proof
absorb the normal dye ink and pigment ink
Details for inkjet printable card
1.printer:inkjet printer
2.Material:PVC
3.Size:85.6 x 54mm
4.Thickness:0.76mm
5.color:white
Detailed Product Description
    Direct printing using tray for epson printer.They could be used for PVC Plastic Cards,Membership Cards,Educational ID Cards,Employee ID Cards,Promotional Cards and ect.
     You could start printing directly on PVC ID using your existing Epson R230, R270,R280,T50,T60 and ect. with Dye inks (standard inks) and pigment ink, that makes your printer life last longer.
    White card can be achieved by inkjet photo-printing, fast drying,  gloss, waterproof, wear-resistant, print, complete the direct use, without any post-processing features, uses a broader,
Features : 
Epson inkjet printer with direct printing on the card surface, three minutes after the ink dried immediately after use.
1, card quick and easy, no coating, laminating and laminating;
2, card glossy, waterproof, image wash with water, smear, soak (1-2 hours), the image remains the same;
3, for a variety of inkjet ink, printer without the need to change equipment, card and low cost;
4, image color reproduction, high-definition, precision printing up to 1440dpi or more;
5, white card with the mechanical properties of laminated cards;
6, UV-resistant, wear-resistant, fade-resistant, long shelf life;
7, Rapid cards wide range of applications, suitable for on-site accreditation, system end-users on their own cards;
8, card process green, solvent-free
Package include:
10pcs blank white inkjet printable pvc plastic cards.