---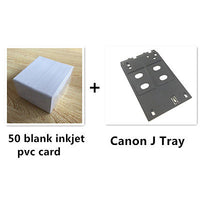 Sale
Inkjet PVC Card Starter Kit - 50pcs ID Cards
For Canon MG5430, MX923, and More (see full list below)
1pc Canon J Tray for Various Canon Printers (list below) 
50pcs High Quality Inkjet printable(both side) 30mil thick CR80(Credit card) size bright white,semi-gloss PVC Cards 
1.Save cost to print your own ID card
If you need to make ID cards for your school, business, social club, church, organization, fraternity, sorority, conference, event, charity, hospital, gym, or for any reason at all and don't want to spend thousands of dollars on equipment, this Inkjet PVC card kit may be a perfect fit for you. Look below for examples of ID cards made using Inkjet PVC cards and you'll see that you can create great high-quality cards without spending outrageous sums of money. Even if you don't have a supported Inkjet Printer, you can buy an Inkjet Printer and an Inkjet PVC card kit, and still spend a fraction of the cost of a PVC ID Card Printer. To find kits and trays for other inkjet printers visit our ebay store.
2.Good quality inkjet printable pvc card
The inkjet PVC cards in this kit are specially made to be printed on both sides by inkjet printers. They are the highest quality inkjet PVC cards available on the market (others try to market these cards as "Platinum" or "Premium", but don't be fooled in to paying more). In addition to being able to print on these with your inkjet printer, you can also write on them with a ballpoint pen if you need to have a signature or other writing on your ID card.
3.Can't support
Inkjet PVC cards are a great alternative to buying a PVC card printer if you don't have to make many ID cards. Inkjet PVC cards should not be used in card printers such as Evolis, Zebra, Fargo DataCard, Magicard, or other card printers.
4.If you need other kind of PVC Card
If you need blank pvc cards that can printable by Evolis,Zebra,Fargo,etc,please contact with us or find in our ebay store.
5.Support printer list:
Works with the following Canon Printers:
Canon MG5400
Canon MG5420
Canon MG5422
Canon MG5430
Canon MG5450
Canon MG5460
Canon MG5470
Canon MG5480
Canon MG6310
Canon MG6320
Canon MG6330
Canon MG6340
Canon MG6350
Canon MG6360
Canon MG6370
Canon MG7110
Canon MG7120
Canon MG7130
Canon MG7140
Canon MG7150
Canon MG7160
Canon MG7170
Canon iP7200
Canon iP7210
Canon iP7220
Canon iP7230
Canon iP7240
Canon iP7250
Canon iP7260
Canon iP7270
Canon MG7510
Canon MG7520
Canon MG7540
Canon MG7550
Canon MG7570
Canon MX922
Canon MX923
Canon MX924
Canon MX925
Canon MX926
It will work with any Canon printer that uses the J tray for CD/DVD printing. Tray measures 130mm x 220mm. Please measure your tray if your printer isn't listed, we have other trays available in our ebay store.
 if you need more inkjet printable blank pvc cards,please see below link:
http://www.ebay.com/itm/230pcs-Blank-white-inkjet-printable-PVC-ID-cards-for-Epson-Canon-double-sided-/181644183376?rd=1