---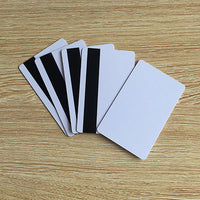 Sale
Feature:
The Magnetic Card is the most consumed and the most popular card, made of PVC material. International standard size (86 * 54 * 0.76mm).Withing delicate outlook and feel smooth, it has a lot of functions as cash storing, access control, membership identification.The Magneci Card widely applied in various fields such as banking, telecommunications, transportation, business, securities, supermarkets, hotels, beauty salons, pharmacies, hospitals, fitness, photography, glasses, restaurants and other areas.
1. With HiCo III-Track Magnetic Stripe.
2. Graphic can be print on both sides of Card surface by 
3. all dye-sublimation PVC Card Printers.
4. 10 pieces in 1 package. 
5. Size: 85mm (Width) x about 54mm (Height) x 760 micron / 30mil (Thick).
6. (Same ISO standard as Credit Card.)
7.Working Temperature:0-40(Degree)
8.Data Storage Period:About ten years
9.Magnetic Track: Track 1,2 and 3
10.inkjet printable for Ca non or Ep son printer.
Package:
10pcsxHico blank magnetic stripe card inkjet printable
These cards can be printable with Inkjet printer.
  
Applications:
Enterprises, bank, traffic, insurance, super marketing, parking, school, library management. Access control, etc.