---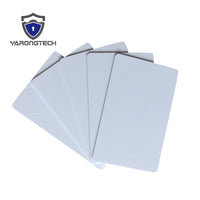 Sale
MIFARE Classic® 4K Card
MIFARE and MIFARE Classic are trademarks of NXP B.V.
*Contactless transmission of data and supply energy (no battery needed)
*Operating distance: Up to 100mm (depending on antenna geometry)
*Operating frequency: 13.56MHz
*Data transfer: 106 kbit/s
*Data integrity: 16 Bit CRC,parity,bit coding bit counting
*Anticollision
*Typical tickting transaction: <100 ms ( including backup management)
EEPROM
*4 Kbyte, organized in 32 sectors with 4 blocks and 8 sectors with 16 blocks ( one block consists of 16 byte)
*User definable access conditions for each memory block
*Data retention of 10 years.
*Write endurance 100 000 cycles
Security
*Mutual three pass authentication( ISO/IEC DIS 9798-2)
*Data encryption on RF-channel with replay attack protection
*Individual key set per sector (per application) to support multi-application with key hierarchy
*Unique serial number for each device
*Transport key protects access to EEPROM on chip delivery
Key features
•Dimensions: 86 x 54mm
•Thickness: 0.9mm
•Material: PVC
•Surface: lamination (gloss/matt/frosted)
•Data storage time: minimum 10 years
•Operating temperature: -20 to +60°C
•Stockage temperature: -20 to +65°C
Key applications
*Public transportation
*Access control
*Event ticketing
*Gaming & identity
Package content:
1000pcs BLANK MIFARE Classic® 4K Contactless cards.
NOTE:
Graphics Quality Cards For All Photo ID Card Printers Including
DataCard, Zebra, Fargo, Evolis, Magicard, NBS & etc.
   (These Cards Will Not Work In Inkjet Printers)