---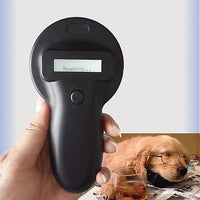 Sale
LF handheld reader H20-F-G4 is a latest product developed by our company.It can read the LF tag compliant to ISO11784/785 134.2KHz FDX-B/HDX Handheld animal reader is widely used for pet management, animal tracking, and livestock tagging system.
KEY FEATURES:
1. Support all common ISO11784/11785 RFID animal tags;
2.Easy operation, reading with only one button;
3. The display comes with backlight for easy reading in dark environment;
 4. Big memory to in store up to 8000pcs ID number data;
5. Directly read the history data under internal reading mode;
6. Low battery alarm function when battery power is lower than 7.8V(we don't supply the battery,because China post can't ship the battery).
7. Optional output interface for external antenna;
8. Standard USB interfaces to connect with computer for data uploading.
9. Color options: Black