---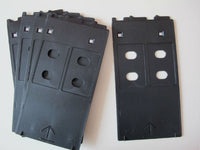 Sale
ack.
Suitable Model of Ca non inkjet printer:
PIXMA IP4600 IP4700 IP4680 IP4760 IP4850 IP4950 IP4840
IP4940 IP4820 IP4920 IP4880 IP4980 IP4870 IP4970 IP4810
IP4910 IP4830 IP4930 MP630 MP640 MP980 MP990 MG5250
MG6150 MG8150 MG8250 MG5250 MG6140 MG8140 MG5220
MG5320 MG8120 MG6120 MG6220 MG6180 MG8180 MG6170
MG8170
Id card:should use special inkjet pvc cards,standard size:85.5x54x0.76mm
If you don't have this special inkjet white pvc cards,you can buy from our store.
Now you can print directly on PVC ID card using your Ca non printer with Dye/Pigment inks.
No need of ID PVC Cutter and Laminator!
The card tray is as CD trays on some Ca non inkjet printer.
if you need more inkjet printable blank pvc cards,please see below link:
http://www.ebay.com/itm/230pcs-Blank-white-inkjet-printable-PVC-ID-cards-for-Epson-Canon-double-sided-/181644183376?rd=1
Package included:
1pc canon printer tray
2pc test cards