---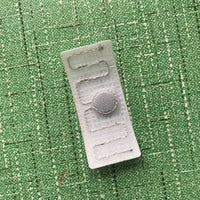 Product Details
1.Nylon Rfid laundry tag Laundry rfid tags UHF Rfid tag Rfid laundry tags for wash
management and long reading range.
2.Product Introduction of the Nylon Rfid laundry tag
Nylon Rfid laundry tag from YARONGTECH are the ideal choice for tracking
laundered items such as towels,garments and robes. Great for hospitals, nursing homes or
military uniform management and the hospitality and garment industries. The 360° read
profile means you can track the tags from any angle.
Flexible low-profile design offers versatile attachment methods. Sew these RFID tags
directly into the seams and hems of garments, blankets and other products; heat-seal
tags onto fabrics; or place them in small pouches, then stitch into a seam or hem.
The Nylon Rfid laundry tag can be dry cleaned or washed up to 200 times in hot, soapy
water. Resistant to high temperatures, tags can be ironed at 200°C with a press cloth for
up to 10 seconds, placed in a dryer for up to an hour at 185°C and/or sterilized in an
autoclave.
3.Details Spec
Model Name Weaving mark laundry tag
Model No. YRLT-001
Operating Frequency 860~960MHZ
IC Type Impinj M4QT
Memory
EPC 128 bit, User 512 bit, TID
96 bit
EPC Memory Content Unique, randomized number
Max Read Distance US Up to 7m
Applicable Surface Materials clothing
Tag Form Factor Abnormity tag
Tag Materials Nylon
Attachment Method Stitching
Dimensions 23.6*8.7*0.4in (60*22*1mm)
Operating Temperature (-20° to + 200°C)
4.Nylon Rfid laundry tag Physical
1. Material:Nylon
2. Size:60*22*1mm
4. Antenna:Copper
5. Packing:1000 pcs/carton or as customer's request
6. G.W:1g/pcs
7. Protocol:ISO18000-6C & EPCglobal Class I Gen 2
5.Nylon Rfid laundry tag RF features
1. Frequency:860~ 960 Mhz
2. Chip:IMPINJ MOZAN4QT
3. Memory:EPC 128 bit, User 512 bit, TID 96 bit
4. Read distance:7meters under 8dBi antenna fixed reader,about 1 meter by handheld uhf reader
5. Write endurance:100,000 cycles
6. Data retention:50 years
6.Nylon Rfid laundry tag Other features
1. Security:TID, unqiue serial number, password protection
2. Anti-collision:Multiple tags operation allowed
Environment
1. Operating condition:-20 ~ 200 Degree Celsius, 5~ 95% RH, no condensation
2. Storage condition:-10 ~ 110 Degree Celsius, 5~ 95% RH, no condensation
3. ESD:+/ -2000V peak
7.Key Applications
Great for hospitals, nursing homes or military uniform management and the hospitality
and garment industries
Package included: 
5pcs uhf rfid launtry tag for clothes