---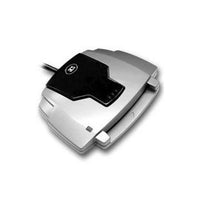 Sale
USB 2.0 ACR38-SPC Smart Card Reader

Technical Specifications :
Product ID :
USB 2.0 ACR38-SPC Smart Card Reader
Dimensions
Spaceship Casing: 73.0mm (L) x 96.5mm (W) x 19.0mm (H)
Bridge Casing : 80.0mm (L) x 71.5mm (W) x 80.0mm (H)
Interface
USB 2.0 full speed
Supply Voltage
Regulated 5V DC
Supply Current
max. 50mA
Operating Temperature
0-50°C
Operating Frequency
4 MHz
MBTF
500,000 hours
Smart Card Interface Support
ISO-7816 Class A, B and C ( 5V, 3V, 1.8V )
Compliance/Certifications
EN 60950/IEC 60950, EMV 2000 Level 1, PC/SC, CCID, CE, FCC, VCCI, Ro HS Compliant, USB Full Speed 
Mic soft WHQL: 2000, 2003, XP, Vis ta, 2008, 2008 R2, 7 
Operating System Support
Win98, Win ME, Win 2000, Win XP, Win Vista, Win 7, Win Server 2003, Win Server 2008 
Win XP x64, Win Vista x64, Win 7 x64, Win Server 2003 x64, Win Server 2008 x64, Win Server 2008 R2 x64 
Ma c 
Li nux
Overview :
    Along with the rapid growth of technology comes the increasing prevalence of electronic data theft. This emphasizes the need to secure electronic data, thus necessitating the integration of smart card technology into current IT infrastructures. Following this trend, the ACR38 Smart Card Reader Series combines sophisticated technology and modern design to meet stringent requirements in smart card-based applications, such as payment systems and electronic identification, where a high level of security has increasingly been deemed essential.
    Now compliant with the CCID specification, the ACR38 Smart Card Reader offers a plug-and-play solution that eliminates the need for driver installation and driver-system compatibility assessment. Its USB interface facilitates communication between a computer and a smart card very easily, allowing for a seamless implementation of smart-card based applications in a PC environment.
    The ACR38 is compliant with ISO-7816 and EMV Level 1 specifications. It supports ISO-7816 Class A, B and C (5V, 3V and 1.8V) cards, including all microprocessor cards with T=0, T=1, protocols, as well as most of the popular memory cards in the market.
    The ACR38 also offers an optional built-in Security Access Module (SAM) slot that supports various high security applications. It is also available in other casing designs, and has an alternative module form (ACM38).
Features :
Supports ISO-7816 Class A, B and C ( 5V, 3V, 1.8V ) cards 
Performs read and write operations on all microprocessor cards with T=0, T=1 protocols 
Supports most of the popular memory card types in the market : 
  1)Cards following the I2C bus protocol (free memory cards) such as :
     Atmel : AT24C01 / 02 / 04 / 08 / 16 / 32 / 64 / 128 / 256 / 512 / 1024 
     SGS-Thomson : ST14C02C, ST14C04C
     Gemplus : GFM1K, GFM2K, GFM4K, GFM8K
  2)Cards with intelligent 256 bytes EEPROM and write protect function: SLE4432, SLE4442, SLE5532, SLE5542
  3)Cards with intelligent 1K bytes EEPROM and write-protect function: SLE4418, SLE4428, SLE5518, SLE5528
  4)Cards with '104' type of EEPROM (non-reloadable token counter cards): SLE4406, SLE4436, SLE5536, SLE6636
  5)Cards with secure memory IC with password and authentication: AT88SC153, AT88SC1608
  6)Cards with Intelligent 416-Bit EEPROM with internal PIN check: SLE4404
  7)Cards with Security Logic with Application Zone: AT88SC101, AT88SC102, AT88SC1003
  8)Supports PPS (Protocol and Parameters Selection)
  9)Short Circuit Protection
  10)RoHS Compliant
  11)Certificate of conformance: EN 60950/IEC 60950, ISO-7816, PC/SC, CE, FCC, VCCI, CCID, Microsoft WHQL, EMV 2000 Level 1

 

Applications :

 
e-Government 
e-Banking and e-Payment 
e-Healthcare 
Public Key Infrastructure 
Network Security 
Access Control 
Loyalty Program

 

Packing details :

 
Unit : 1 pcs ACR38-SPC Card Reader
3pcs SLE4442 card